Reliance – Jio Financial Services Demerger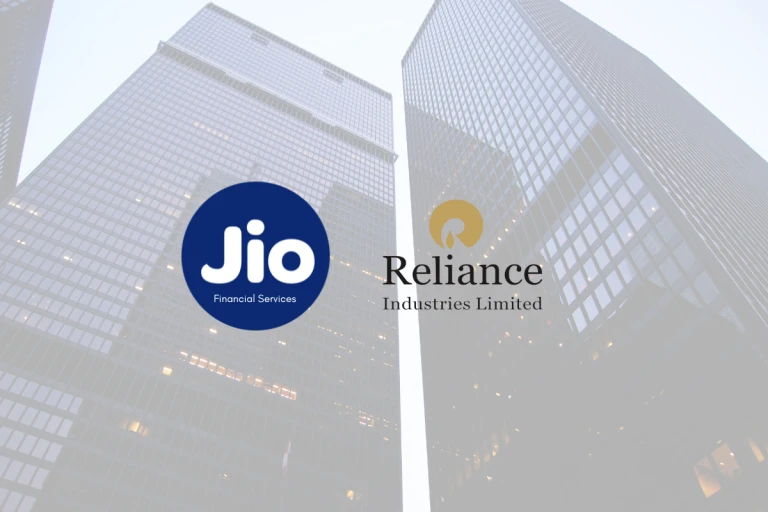 On July 20th, Reliance Industries Ltd (RIL), led by Mukesh Ambani, successfully completed the demerger of its financial segment, Jio Financial Services (JSFL). The post-demerger share prices stood at Rs 2,580 per share for RIL excluding Jio Financial Services, and Jio Financial Services was valued at Rs 261.85 per share following the pre-opening session on both the NSE and BSE. The demerger was carried out at a fixed ratio of 1:1.
This move comes as part of Reliance's broader restructuring efforts, with the company's financial services division, previously known as Reliance Strategic Investments Limited (RSIL), being separated and rebranded as Jio Financial Services Limited (JFSL). The newly demerged JFSL is anticipated to make its way to the stock market soon. Notably, this demerger includes the spin-off of 6.1 percent of Reliance Industries' treasury shares.
Impact of the Demerger on Shareholders
As part of Reliance-Jio financial services demerger, Reliance shareholders will receive one share of the separated entity for each share they hold in the diversified oil-to-telecom conglomerate. The record date for this allocation of shares from the demerged entity was set as July 20th. For instance, if an investor possesses 100 shares of Reliance on the specified date, they will qualify to receive 100 shares of Jio Financial Services. The ownership distribution at JFSL will mirror that of Reliance Industries.
Also read: Upcoming IPO's in July 2023
Calculation of Post-Demerger Share Price
During the dedicated pre-opening session, traders had the chance to gauge market sentiment and evaluate the equitable valuation of Reliance Industries' stock following the demerger. The variance between Reliance's closing price before demerger and the discovery price determined through the pre-open auction was utilized to compute the initial share value of Jio Financial Services.
At the conclusion of the pre-opening session at 9:45 am, the price of Reliance's stock was determined at Rs 2,580. This marked a 9.2 percent reduction from the previous day's closing price of Rs 2,841.85 per share on the National Stock Exchange (NSE). Following the pre-open auction session, the shares of Jio Financial Services are now appraised at Rs 261.85.
Also read: Top 10 international stocks to invest – August 2023
Jio Financial Services Listing Date
Jio Financial Services is scheduled for stock exchange listing on August 21st. In addition to the benchmark Nifty 50 index, Jio Financial Services will be incorporated into various other indices, such as Nifty 100, Nifty 200, and Nifty 500, among several others. This inclusion will signify the 51st constituent within the Nifty 50 index. However, the demerged entity will be delisted from the index at the conclusion of the third day following its actual listing.
Follow us on Instagram.