Top Car Loans available in India 2023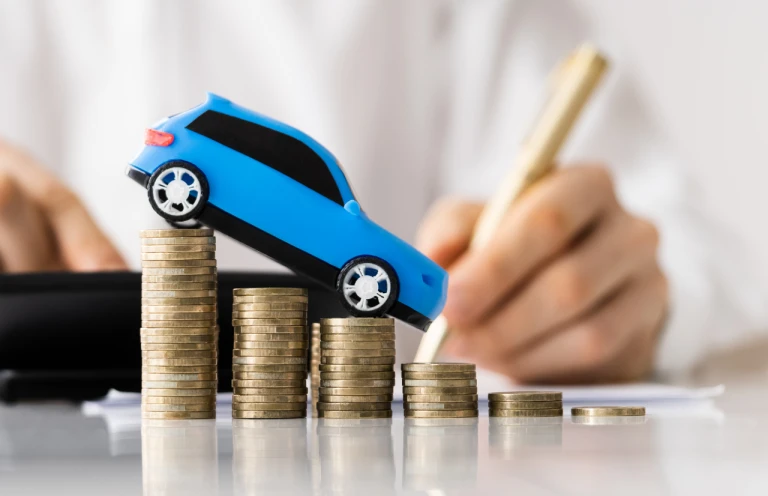 Every Indian's dream is probably to own an automobile. Everyone wishes to own a car, whether it is a luxury automobile, a sedan, or a sports car. Although owning a car is costly, car loans have made it considerably more affordable.
Today, almost all major Indian banks offer auto loans at reasonable interest rates. Even the car loan approval process is no longer time-consuming. There are numerous vehicle loan alternatives available from various banks. Thus, if you're thinking about buying a car soon and looking for the best car loans in India 2023, go no further because we've got you covered in our blog.
Best Car loans in India 2023
The most economical and cheapest car loans in India are listed below, along with their specific car loan rates and processing fees: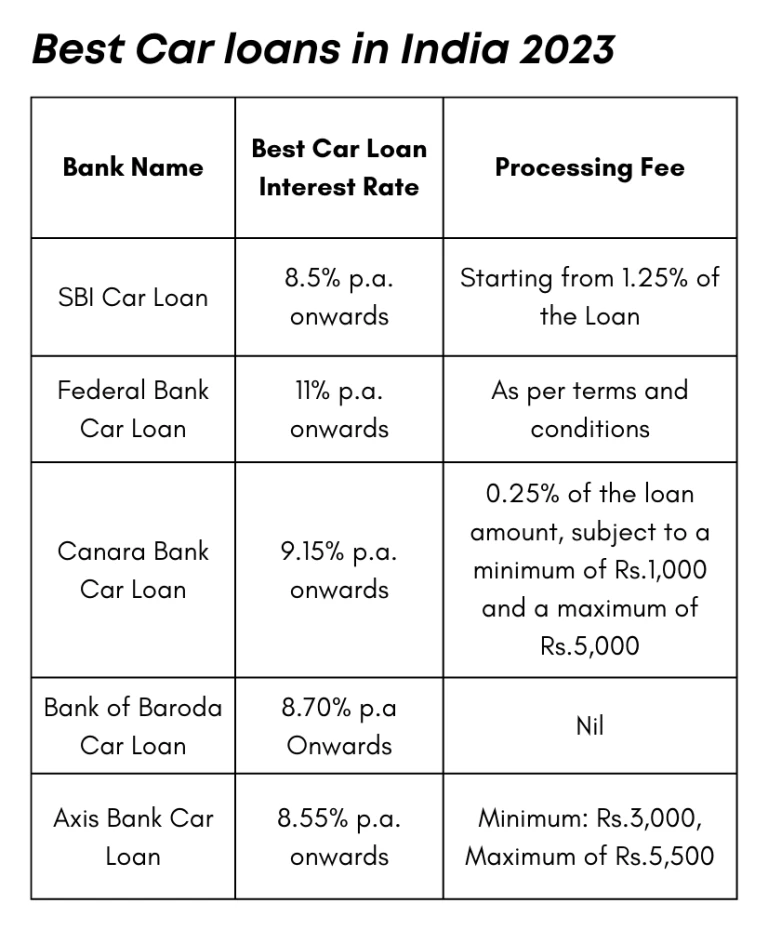 Factors to consider before deciding on a Car loan
While applying for a car loan in India, it is critical to consider the following factors:
Make sure you're getting a loan for the right car
Rate of interest and additional fees
Conditions of use
Credit score
Make Sure You're Getting a Loan for the right Car
If you are unsure whether a loan is appropriate for the model of automobile you have chosen, it is best to seek guidance from your bank or financial institution so that they can help you choose the ideal one for your needs.
Rates of Interest and Additional Fees
Assume you want to receive a car loan from a bank. In that situation, it is critical to understand the loan approval procedure, the applicable interest rate, and any additional fees. You should be aware of these details before agreeing to the terms of the loan because they can make or break your decision to take out this loan with them.
Conditions of Use
There are a few things to bear in mind when shopping for a car loan. For example, if you want to get a loan from your bank or another financial organisation, make sure to read the terms and conditions. This can be done online or by contacting them.
Credit Score
You should also make certain that your credit history is spotless and that your credit score is excellent. Banks will be hesitant to lend to you if you have a history of defaults or bankruptcy.
Also read about Gold Loans
Best Car loans in India 2023 – Overview
The following is an overview of the banks that offer the best car loans.
State Bank of India
State Bank of India is a banking and financial services firm located in India. Treasury, Corporate/Wholesale Banking, Retail Banking, and Insurance Business are the Company's segments. The Treasury division includes the full investment portfolio as well as foreign exchange and derivative contract trading.
The lending activities of the corporate accounts group, commercial clients group, and stressed assets resolution group are all part of the Corporate/Wholesale Banking business. Retail branches, principally personal banking, lending to corporate customers, agency businesses, and automated teller machines are all part of the Retail Banking division (ATMs). The State Bank of India also has the most competitive vehicle loan rates. As a result, it is frequently the first pick for new car buyers.
Federal Bank
Federal Bank Limited (the Bank) is a bank that is regarded as one of the best for vehicle loans. Retail banking, corporate banking, and treasury operations are among the services offered by the bank. Treasury, Corporate/Wholesale Banking, and Retail Banking are among its segments.
Trading and investing in government securities and corporate debt instruments, stocks and mutual funds, derivatives, and foreign currency activities on its own account and for customers are all part of its Treasury division operations.
Its Corporate/ Wholesale Banking section provides corporates, trusts, partnership businesses, and statutory bodies with loans, deposits, and other banking services. Its Retail banking division includes lending cash, accepting deposits, and providing other banking services to any legal person, including small business customers.
Canara Bank
Canara Bank Ltd. is a bank located in India. Treasury Operations, Retail Banking Operations, Wholesale Banking Operations, Life Insurance Operations, and Other Banking Operations are the segments of the bank.
Personal banking, corporate banking, non-resident Indian banking, Internet banking, and micro, small, and medium enterprises (MSME) banking are all services offered by the bank. Its retail lending operations include education, auto, and housing loans, as well as other personal loans.
Bank of Baroda
Bank of Baroda is an Indian bank that offers banking and financial services. Treasury, Corporate / Wholesale Banking, Retail Banking, and Other Banking Activities are its segments. Furthermore, its geographical component covers both domestic and foreign operations.
It provides personal banking services such as savings accounts, checking accounts, and term deposits. It also offers a variety of digital products, such as Internet banking, mobile banking, cards, WhatsApp banking, digital signage systems (DSS), self-service passbook printers, and automated teller machines (ATMs).
It provides a wide range of loans, including housing, personal, education, gold, and some of the lowest vehicle loan interest rates in India.
Axis Bank
Axis Bank Ltd (the Bank) is a banking and financial services corporation established in India. Treasury, Retail Banking, and Corporate/Wholesale Banking are the bank's segments.
Treasury investments include governmental and corporate debt, equities and mutual funds, trading, derivative trading, and foreign exchange operations, as well as a central funding unit.
Axis Bank provides a variety of house loans, personal loans, student loans, vehicle loans, and so on.
Also read: Top 10 personal loans in India 2023
The Bottom Line
A large sum of money spent on a car is a major investment. As a result, it necessitates a substantial number of careful money management decisions. As a result, whether taking out a car loan or looking for the best car loan in India, you must evaluate your repayment capacity, bank interest rates, the type of car loan required, and so on.
Hence, while owning a car is now possible for everyone thanks to the availability of car loans across India, it is important to look for the most viable alternative and evaluate all criteria before applying for a car loan.
Follow us on Instagram.