Best Endowment Plans in India 2023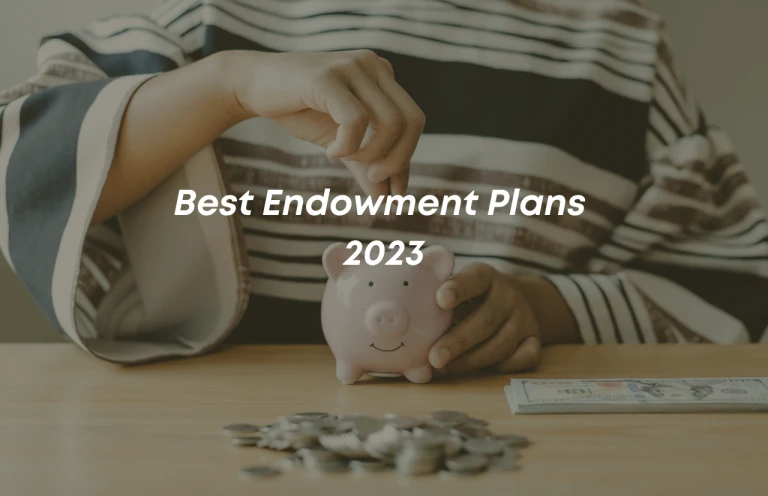 In our previous article, we discussed what an endowment plan is. Today, in this piece, we'll delve deep into the topic to learn about the best endowment plans in 2023.
Best Endowment plans in 2023
Some of the best endowment plans to buy in 2023 are highlighted below.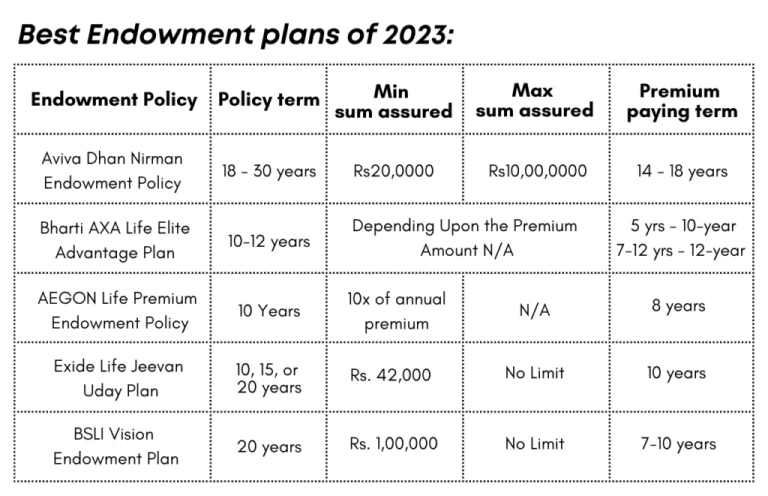 Factors to consider before choosing an endowment plan:
Here are some factors that you need to consider before choosing an endowment plan:
Your needs
premium amount
Insurance provider's claim settlement ratio
Periodic payout
Benefits such as policy loans and partial with drawls
Your needs
When comparing multiple endowment plans from various insurance companies, you must first examine your insurance needs. The majority of people buy a life insurance policy with a sum assured of Rs. 1 crore.
Although this is a significant payment that can help your family cover their normal expenditures after your death, you must perform the calculations and decide a reasonable quantity assured depending on your personal needs.
It is critical to evaluate your obligations, the number of financial dependents, the family's lifestyle, and so on, before deciding on a coverage amount that will allow the family to stay financially independent even if you are not present.
Premium Amount
It is just as vital to choose a plan that fits your budget as it is to choose the correct coverage to satisfy your family's financial needs. The premium for the policy must be low. It's pointless to buy insurance with substantial coverage if you can't afford it. If you do not pay the premium, your insurance will lapse and your family will no longer be insured. Endowment plans often charge a higher premium than pure protection plans, such as term insurance policies, for the same level of assurance. It is mostly due to the endowment policy's investment-cumulative-savings component.
When you pay the endowment plan premium, a portion of the premium is invested in various asset kinds to produce wealth. As a result, before purchasing an endowment plan, you must comprehend the premium payable. Furthermore, the premium must be within your budget and steady throughout the policy's term without affecting your other financial goals and costs.
Insurance provider's claim settlement ratio
Selecting an insurance provider with a high claim settlement ratio is critical since it demonstrates an insurance provider's dependability with its customers.
The claim settlement ratio of an insurance firm represents the number of claims paid in relation to the total number of claims received.
Periodic Payout
The availability for periodic payouts is another important consideration when purchasing an endowment life insurance policy. Getting payments on a regular basis during the policy term guarantees that you can fulfil your short-term financial goals and commitments, such as putting a down payment on a car loan or prepaying a home loan.
Most endowment plans now allow policyholders to choose the mechanism and frequency of distribution. For example, some programmes pay out 25% of the stated money every four years. Keep the payout terms in mind when signing the policy paperwork.
Benefits such as policy loans and partial withdrawls
The majority of endowment policies feature extra perks including partial withdrawals and policy loans. You must check on a regular basis to discover if your endowment plan includes such benefits. Policy loans are typically available after paying at least two years' premiums, and the partial withdrawal facility usually becomes available when the plan's lock-in term has expired.
Overview
Here are some of the best endowment plans to buy in India, both online and offline. Learn about the basic features of the best endowment policy here-
Aviva Dhan Nirman Endowment Policy
This policy guarantees guaranteed annual payouts when the premium payment term expires.
The policyholder receives a guaranteed lump sum payoff upon maturity.
The Simple Reversionary Bonus, which is offered at the end of the first policy year, increases policyholders' savings.
The policy offers comprehensive coverage based on the Amount Covered selected by the client.
Bharti AXA Life Elite Advantage Plan
It is a non-participating plan that allows for both limited and regular premium payments.
Guaranteed Annual Payouts provide an ongoing source of funds.
According to the policy term, Guaranteed Yearly Payouts are a percentage of the Amount Assured and are paid from the end of the term through the 19th year. The Amount Assured is fully paid at the end of the 20th year.
Annual rewards are available in lump sums with a 5% reduction.
AEGON Life Premium Endowment Policy
It is a participating plan that offers premium payment options such as single, regular, and limited pay.
Guaranteed Additions are supplied during the Premium Paying Period (PPT).
Exide Life Jeevan Uday Plan
Exide Life Jeevan Uday Plan is a savings plan offered by Exide Life Insurance Company Ltd. This policy offers guaranteed benefits such as life insurance for the duration of the policy, tax-free maturity benefits, extended life insurance, and a loan policy option. This plan does not necessitate the submission of any medical documents.
Exide Life Insurance Company Limited is regarded as one of India's most trustworthy life insurance providers.
Almost 15 lakh customers are served by Exide Life Insurance agents in over 50,000 locations across India.
The company's traditional insurance portfolio is strong, and it is distributed through Banc Assurance, Agency, and Corporate Agency & Broking.
Vision Endowment Plan of BSLI
It's a participating plan with only a few premium payment options.
An Accidental Benefit Rider is incorporated.
The corpus is increased by a simple reversionary bonus, an interim bonus, and a terminal bonus.
Follow us on Instagram.