How can NRI or Foreign Travelers use UPI?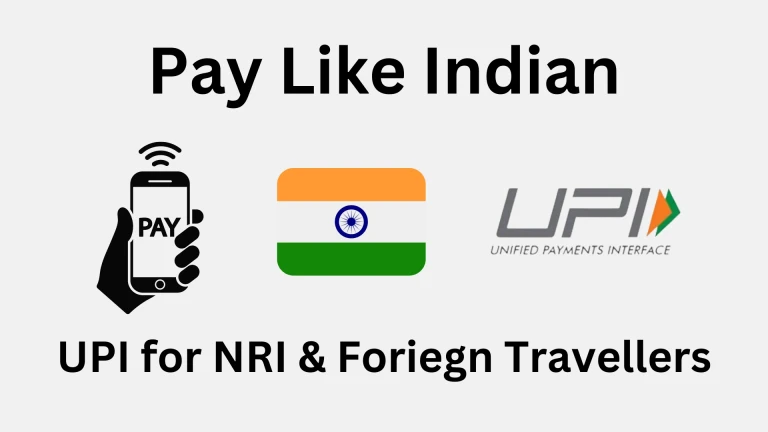 If you are an NRI or a foreigner traveling to India then this article is for you. Now you can use UPI to make payments in India like any other Indian citizens. Read along for more Information about how can NRI or Foreign Travelers use UPI.
How can NRI or Foreign travelers use UPI?
People who are visiting India can use UPI through Prepaid Payment Instruments (PPI). PPIs will be issued after physically verifying the passport and Visa at the point of issuance. Here is how you can avail your own UPI Wallet.
Open your Prepaid Wallet account 
Open a Prepaid Wallet Accounts which are linked to the upi. Private financial institutions such as ICICI Bank and IDFC First Bank, as well as two non-bank PPI issuers named Pine Labs Private Limited and Transcorp International Limited, will issue UPI-linked wallets in the selected airports.
Your passport and visa will be required to be physically verified by the wallet issuers before opening your UPI linked wallet accounts.
Deposit your money to the wallet
Deposit your money to your wallet, you can pay it in cash (against a receipt of foreign exchange) or through any payment instrument. Once deposited to your wallet you can use the amount for paying the local vendors by scanning the UPI QR code.
Further, you can encash the un-utilized balance in the wallet in foreign currency or transfer it "back to source" (payment source from where you added money to the wallet).
Use the Wallet app to pay for local vendors using UPI 
You can simply scan the vendor's QR Code and pay the amount through your wallet using UPI. The amount will be deducted directly from your wallet. Additionally, you can reload the money to your wallet using a foreign exchange or any other payment source. Also, note that the current limit for the wallet is similar to the limits of full KYC PPIs. 
FAQ on UPI for foreign travelers or NRIs
What are the limitation of wallets?
The current limit for the wallet is similar to the limits of full KYC PPIs. For "Full KYC PPIs" the limit is as follows –
The amount outstanding shall not exceed ₹2,00,000/- at any point of time;
There are no limits prescribed for total credits or debits during a month; and
They can be used for purchase of goods and services, cash withdrawal and funds transfer.
Reloadable in nature.
Which are the financial institutions providing this service?
UPI linked wallets are now being distributed by ICICI Bank, IDFC First Bank, and two non-bank PPI issuers – Pine Labs Private Limited and Transcorp International.
How to use the UPI on your phone?
Download an UPI app on your mobile.
Connect your wallet to your UPI app
Use UPI to pay the local vendors by scanning the QR codes.
Who can Avail this facility?
The RBI has made this service available to visitors from the G-20 nations (Available only on selected airports). Travelers to India from countries like Canada, France, Indonesia, Japan, Mexico, Saudi Arabia, Turkey, the United States, Argentina, Brazil, China, Germany, Italy, the Republic of Korea, Russia, South Africa, and the United Kingdom would be able to use the UPI (Unified Payment Interface). In order to make purchases at many of the merchant establishments in India, international travelers from these nations will get prepaid payment instruments, also known as PPI wallets, which will be connected to the Unified Payment Interface.
How can you use UPI with a foreign mobile number?
Non-Resident Indians with international mobile numbers must meet certain requirements in order to use UPI. Further, If the below mentioned requirements are met, NRO or NRE account holders with international mobile numbers can register on the UPI network and begin conducting transactions there. 
Member banks are required to make sure that only NRE account holders or NRO account holders use UPI platforms with their international mobile numbers and comply with all current Foreign Exchange Management Act or FEMA regulations as well as any guidelines or instructions issued from time to time by the Reserve Bank of India or RBI.
The beneficiary and remitter banks must make sure that compliance with the rules is validated. Also Make sure that all necessary checks are conducted in order to prevent the financing of terrorism or money laundering.
Also Read : How is Digital Rupee different from Crypto?