Why Should you Invest in Corporate FDs?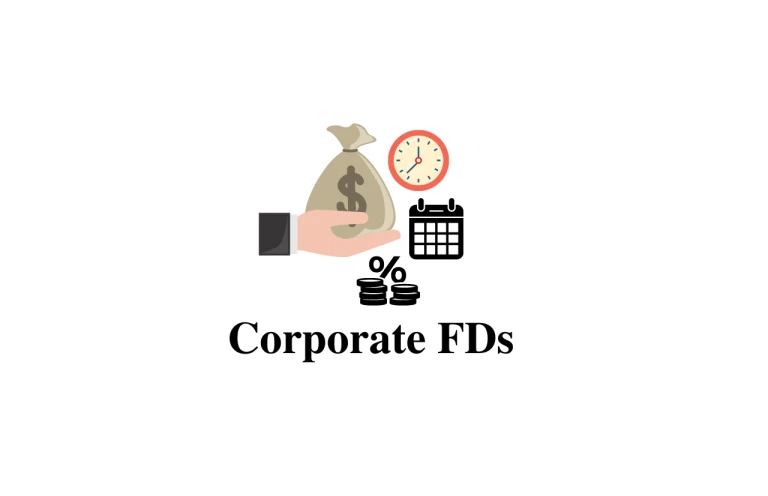 When it comes to investments, there are a lot of options out there. Stocks and bonds, sure, but most investors don't think outside the box. One investment vehicle that is often overlooked is corporate fixed deposits (FDs). Corporate FDs can be an incredibly profitable way to invest your money, and we're here to explain why. In this blog post, we will discuss the unique benefits of investing in corporate FDs. From higher interest rates to added flexibility, learn about how corporate FDs stack up against other investment vehicles and what advantages you can gain from them.
How corporate FDs Work?
Corporates take money from people in the form of fixed deposits for a specific period of time. The corporation grants each person whose money is being used a fixed interest rate, the money is then used for that specific period of time. As unsecured loans, fixed deposits make it simple for corporations to borrow cash for their financial and operational needs. Furthermore, they last longer than average.So, is it possible for any corporate to raise money using fixed deposits? No, certain rules specify which businesses are qualified to use these schemes to raise cash. In accordance with Section 58A of The Companies Act, Reserve Bank of India (RBI) has published these instructions (1956).
Utilizing the corporate funds, periodic interest payments are made to the people up to the maturity date. After the money is repaid on the maturity date, it can be reinvested in a fixed deposit with the same company or with other companies or financial institutions.
Why should we invest in Corporate FDs?
Since they are unrelated to and unaffected by the market, fixed deposits in banks offer returns that are guaranteed. However, it is the same with corporate FDs because they are also unaffected by changes in the market or in interest rates. When a business offers a specific interest rate, it remains the same and is unaffected by the market or changing interest rates.
rates of interest
When compared to banks, corporate FDs offer the best interest rates. Corporate FDs can determine the optimum fit when taking into account a debt instrument where the investor requires higher returns. These offer substantially better returns than banks and other financial institutions since they are not affected by market performance or interest rate fluctuations.
Similar to how banks care for the elderly, corporate FDs do as well. Seniors can discover stability and enticing periodic payments here, which can make life easier. Additionally, senior citizen interest rates are higher than banks schemes, making it a lot more attractive option to invest in FDs.
Short Term Investmesnts
The ability to make short-term investments is one of the main benefits of investing in corporate FDs. Bank FDs can range in length from a few months to a few years, but corporate FDs are limited to a five-year term, making them an attractive option for investors seeking substantial returns quickly.
Ratings and Comparisons
Many corporations provide fixed deposits, but which one is the best to use for your investment? Investors can check the corporate ratings provided by CARE (Credit Analysis and Research Limited), CRISIL (Credit Rating Information Services of India Limited), or ICRA (Investment Information and Credit Rating Agency of India Limited) to address this common issue, and then proceed to make an informed choice. After reviewing the company's financial records, repayment patterns, and interest rates, these ratings are given to the corporate, which aids potential investors by providing them with a clear picture.
The formats for company ratings include AAA, AA, BBB, and others. The best rating, AAA, indicates that a potential money hive can be found after investing in such a company. Investors can stop investing in a company with an AA or BBB grade since it provides a clear contrast with other companies.
Nominee
When purchasing corporate FDs, investors have the option of selecting the nominee, which is to their favour. If an investor has a sizable amount of money in a corporate fixed deposit and suddenly passes away. The nominee can take over and get the entire sum.
Essentials before investing in Corporate FDs
Compared to bank FDs, corporate FDs offer a greater rate of return, but there are some considerations that investors should keep in mind before making a purchase.
Strong Comparisons
Many corporations provide fixed deposits, but not all of them do so at the same interest rate. In some cases, the marginal difference is too large. Before investing, it is advisable to compare corporate ratings from CARE, CRISIL, and ICRA to see which have the best ratings. The highest rating available is AAA.
Research
Most investors, for example, just pay attention to the rating system. Investors should look into the company's track record, including its profit and loss records. If the loss is a one-time or rare case, and the track record is generally favourable. It could be an excellent investment option for corporate FDs. Furthermore, it is a good habit to be aware of the company's plans and to assess whether they will have a positive or negative overall impact.
Premature withdrawls
Most banks penalise FD investors who withdraw funds too soon. This is typically three months after investing. The same is true for Corporate FDs, and there is a penalty for early withdrawal. Before investing, it is best to understand the penalty.
The bottom line
When it comes to making investment decisions, the most important thing to consider is the bottom line. That's why corporate FDs can be such a great option for those looking to invest their money. While there are certainly some risks associated with investing in corporate FDs, there are also a number of potential rewards. For one, these investments tend to offer stability and predictable returns. Additionally, they can often provide tax benefits and help diversify your portfolio. Of course, as with any investment decision, it's important to do your research and consult with a financial advisor before making any final decisions. But if you're looking for a solid investment option that can offer both stability and potential growth, corporate FDs may be worth considering.
Follow us on Instagram.