Best solar energy stocks to buy – 2023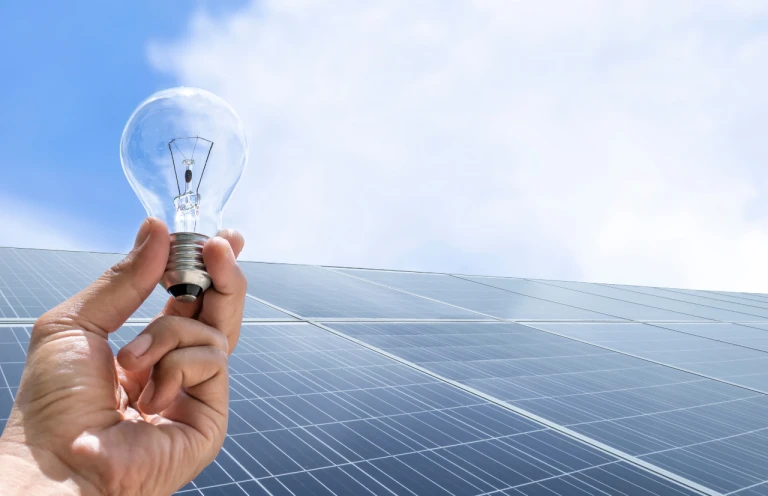 Climate change has been widely discussed, and developing economies are equally concerned. Because of these environmental concerns, it is becoming increasingly important to use clean and renewable energy sources.
The Indian government strongly supports the use of renewable energy sources, which takes into account the negative effects of fossil fuels. This encourages Indian businesses to focus on alternative energy sources such as solar power. In this post, we discussed a list of Indian solar energy stocks as well as the prospects for solar energy firms. So, keep reading to learn more about it!
Solar Energy Industry – Overview
The solar energy industry develops and installs equipment to capture solar energy and convert it to electricity. Because of its size and great potential for growth and development, India's energy consumption is expected to rise faster than that of any other country in the coming decades.
As a result, rising energy demand must be met primarily by low-carbon, renewable sources. In the global fight against climate change, India's announcement that it plans to achieve net zero carbon emissions by 2070 and meet 50% of its power needs with renewables by the end of 2030 is a watershed moment.
In addition, capacity expansion additions in India, the market with the highest growth in renewable energy, are expected to double over the next few years.
The increased government support and the improved economy have made the industry more appealing to investors. Renewable energy will be critical as India attempts to meet its projected energy needs of 15,820 TWh by 2040.
Best Solar energy stocks in India
Now that we have a better understanding of the industry, let us look at the best Solar Energy Stocks in India for the year.
Tata Power Company
Suzlon Energy
WAA solar Energy
Websol Energy System
Synergy Green Industries
Ujaas Energy
Surana Solar
Urja Global
Intersolar
Gita Renewable energy
Factors to consider before investing in Solar energy stocks
The following is a summary of important factors to consider before investing in the top solar energy stocks in 2023-
The solar energy market is rapidly expanding.
Solar energy has grown rapidly in recent years, and this trend is expected to continue.
According to International Energy Agency research, solar energy is currently the most affordable source of electricity ever. As a result, demand for solar panels has increased, and the market is expected to grow rapidly.
The increased adoption of renewable energy goals by nations and businesses also contributes to this expansion.
Solar Energy Stocks May Perform Well in a Volatile Market
Renewable energy companies may fare well in a volatile market.
This is because businesses in the renewable energy sector frequently have long-term goals, such as lowering emissions and improving sustainability. As a result, solar stocks may be regarded as a safe investment option in the stock market.
Furthermore, solar energy-related stocks have recently performed well.
Solar Energy Stocks Can Help You Diversify Your Portfolio
By diversifying your portfolio with investments in the best solar energy stocks, you can reduce your overall risk.
Furthermore, by adding companies from an expanding sector with a promising future, you may be able to offset any risks from other investments.
Furthermore, there is no correlation between solar energy equities and other stocks or asset classes such as securities and real estate. As a result, including solar energy-related equities in your portfolio may help reduce the real danger and volatility of your investments.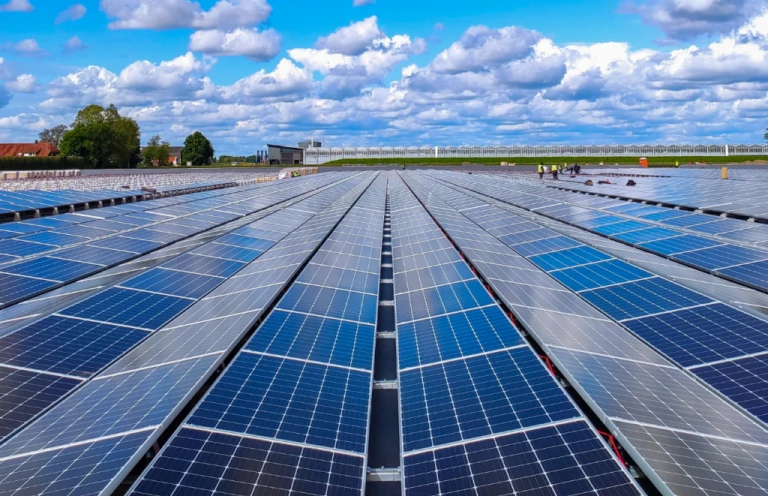 Governments are encouraging the growth of solar energy.
Several governments around the world are introducing incentives and regulations to encourage the expansion of solar energy.
Government regulations may help boost customer demand for solar energy, accelerating the sector's growth. Governments are also setting renewable energy targets and investing in infrastructure.
High Potential Returns
Investing in solar energy companies is an excellent way to capitalise on the rising demand for renewable energy.
Solar energy stocks have the potential to generate significant profits as the industry transitions to a more sustainable future.
Solar energy stocks have the potential to provide significant returns to investors due to rising solar energy demand, rising efficiency, and falling solar technology costs.
Furthermore, as more people and businesses switch to solar energy, the demand for solar panels and related products will grow, resulting in higher sales for solar businesses.
These stocks have excellent long-term potential.
Solar energy holds significant long-term promise as we grapple with the effects of global warming and the need for sustainable energy sources. As a result, you can invest in a sector with a bright future by purchasing stocks in the solar energy sector. According to the International Energy Agency, solar energy is expected to be the primary source of electricity by 2050. Cost reductions, technological advancements, and rising demand all contribute to this rise.
Overview
The following are some of India's best solar energy companies:
Tata Power Company
Tata Power Company Limited is an integrated power utility that produces, transmits, and distributes electricity. Its power generation infrastructure includes thermal power plants, hydropower plants, solar power plants, and wind power plants.
Furthermore, the Company offers project management, technical and quality audits, coal and freight logistics, consulting, gas-insulated switchgear hot-spot testing, and operation and maintenance services.
Railways, ports, refineries, textile mills, fertiliser factories, municipal corporations, water pumping facilities, and other major industries are just a few of the major sectors it serves.
Suzlon Energy
Suzlon Energy Limited provides renewable energy solutions that include comprehensive solutions for all aspects of wind energy projects. Furthermore, the company offers complete turnkey solutions, beginning with design and ending with asset life-cycle management.
Suzlon manufactures electricity in addition to producing power, selling solar panels, and offering entirely produced castings, forgings, and foundry parts. Furthermore, it improves scheduling and forecasting, boosts turbine energy output, and enables proactive field condition monitoring.
Suzlon provides remote monitoring for over 9,700 wind turbines worldwide using SCADA (Supervisory Control and Data Acquisition) technology.
WAA Solar
WAA Solar, the company establishes solar power projects and finance associate and subsidiary businesses involved in solar power generation through special purpose vehicles (SPVs).
Solar projects are the focus of the company's engineering, procurement, and construction (EPC) efforts.
A Solar Photovoltaic (PV) Grid Interactive Power Plant with a capacity of approximately 10 megawatts (MW) in the village of Nayka in Taluka-Sami, District Patan, a Solar Power Plant with a peak capacity of approximately 100 kilowatts (KWP) at Raja Bhoj Airport in Bhopal, and a Solar PV Grid Interactive Power Plant with a total capacity of approximately 10.42 MW on a 20-acre site are among the projects undertaken
Websol Energy System
Websol Energy System Limited, based in India, is best known for its production of solar cells and modules.
The company is in the business of manufacturing solar photovoltaic cells and modules. There were nearly 94.43 gigatonnes of renewable energy projects built there (GW). The company's products are used in both domestic and international commercial and industrial settings.
Its manufacturing capability includes approximately 250 MW of fully automated module lines and approximately 250 MW of cells. The company's facility is located in Sector-II of the Falta SEZ in Falta, West Bengal.
Synergy Green Industries
Synergy Green Industries Ltd, an Indian company, works in the foundry industry.
Among other things, the company produces massive precision castings for wind turbines. Furthermore, the company manufactures and sells raw and machined steel castings, as well as graded grey iron and spheroidal graphite iron.
Furthermore, the company manufactures and sells raw and machined steel castings, as well as graded grey iron and spheroidal graphite iron.
In addition, the company's products include the main Axle, Hollow Shaft, DV- Casing, Diffuser, Cone Head, Eccentric23, UpperFrame, Pump Casing, Rear Wheel, MainFrame, Valve Body, Pump Casing, Wedge, Wall Body, Main bearing Housing, Cannon Tube, Hub, Gear Box Housing, Main Foundation, Front Wheel, and Base Frame.
Ujaas Energy
Ujaas Energy Limited is a solar energy solutions provider based in India.
The company builds, manages, owns, and maintains a diverse portfolio of solar energy power facilities under its flagship brand UJAAS. The company is divided into four segments: electric vehicles (EV), un-allocable, manufacturing and selling of solar power plants, and solar power generation and maintenance. The company's products include Ujaas Park, Ujaas My Site, Ujaas Home, and UJAAS.
Ujaas Park provides a comprehensive turnkey solution for investors interested in becoming a solar power generator through renewable energy certificates, special tariffs, average power purchase costs (APPC), or captive mechanisms.
Surana solar
Surana Solar Limited, headquartered in India, manufactures solar photovoltaic modules, generates wind and solar energy, and trades a variety of solar-related goods.
The company is divided into two sectors: solar products and wind power. The Solar Products division manufactures and sells solar photovoltaic modules. The wind energy industry is in charge of producing solar and wind energy.
Among the products available are solar lighting, solar lanterns, and photovoltaic modules. Additionally, the company's solar lighting products include home Lighting Systems and Solar Street Lighting.
In addition, the company provides turnkey megawatt scale engineering, procurement, and construction of power projects.
Urja Global
Urja Global Limited is a renewable energy developer and operator that specialises in the design, consulting, integration, supply, installation, commissioning, and maintenance of off-grid and grid-connected solar power plants, as well as decentralized solar application, solar product trade, and lead acid batteries.
Among the company's products are e-rickshaws, batteries, solar inverters, LED lights, PV modules, water heaters, solar lanterns, power packs, home lighting, and solar charge controllers. The Urja Kendra Neo, Urja Kendra Leo, Urja Dlx, and Urja Eco are among its E-Rickshaw models.
Solar batteries, E-rickshaw batteries, automotive batteries, and inverter batteries are also available.
Intersolar
Inter Solar Systems has established itself as one of the most influential businesses in its industry since 1997, focusing on the extensive use of solar energy in the goods it manufactures.
The company employs individuals with extensive knowledge and experience, but it also benefits from the addition of young talent as a significant source of new ideas and enthusiasm.
Inter Solar Systems has quickly become one of the nation's market leaders in solar energy equipment due to its consistent efforts and innovation.
Gita Renewable Energy
Gita Renewable Energy Limited's primary business activities are electricity production and distribution.
The operation and maintenance of the two megawatt (MW) solar facility in Harahan Palli are important areas of concentration for the company. Furthermore, the company operates and maintains solar power facilities.
During the review period, the Company sold to the related party properties, plants, machinery, equipment, and liabilities related to waste heat recovery plants and coal-based thermal plants for a lump sum payment, with the exception of other assets and liabilities sold via slump sale as defined in Section 2 (42 C) of the Income Tax Act of 1961.
The bottom Line
In conclusion, despite the challenges, India's solar energy industry and solar power stocks are on the rise.
However, as people's environmental concerns grow, so will the demand for renewable energy sources.
Before investing in any solar-related stocks, consider the firm's finances as well as the industry and company's potential for growth.
Follow us on Instagram.