Top 10 Personal Loans in India – 2023
Looking for the best personal loan options in India? You're in luck! We've researched and compiled a list of the top 10 personal loans available in India, based on interest rates, repayment terms, and customer satisfaction. Whether you're looking to fund your dream wedding or consolidate debt, this comprehensive guide will help you find the perfect personal loan for your needs. So sit back, relax, and let's take a closer look at the top 10 personal loans in India for 2023.
In India's debt market, the most prevalent lending product is the personal loan. This group contains more than 78% of credit requests in India. Many prospective borrowers like these loans since they are unsecured.
In a nutshell, a personal loan is a sum of money borrowed from a local bank, an online lender, or your credit union. When you receive the funds, you begin making payments to the lender on a regular basis until the loan is fully returned.
Top Personal Loans in India 2023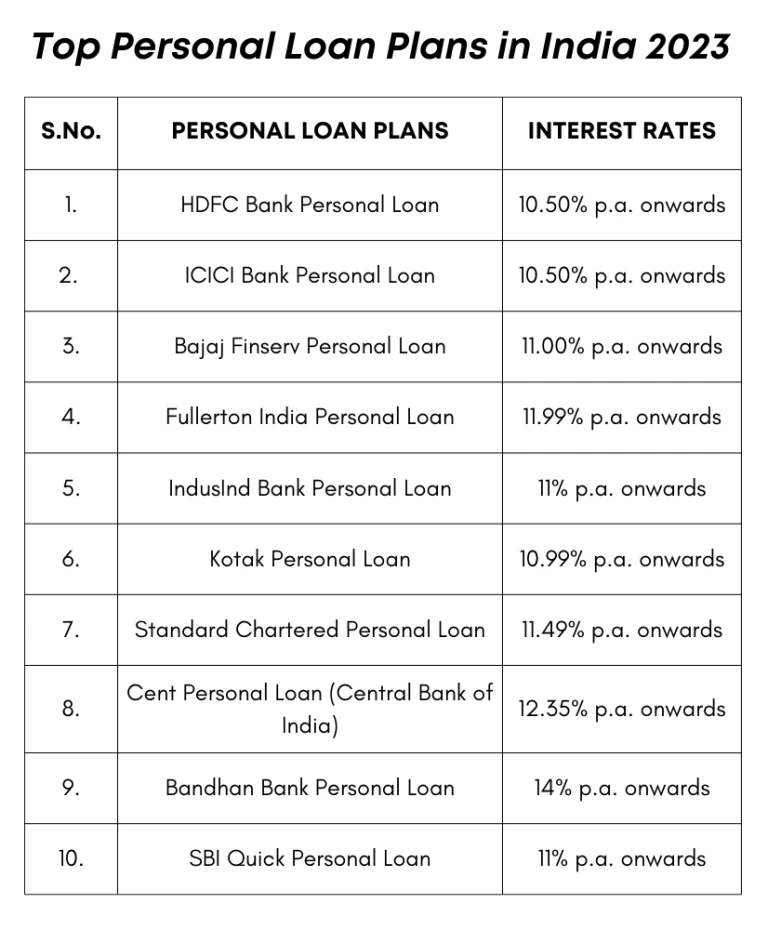 Factors to consider before choosing a Personal Loan
Here are some factors to consider before choosing a personal loan:
Documentation
Interest rates
Tenure
Amount of the loan
Disbursement of Funds
Charges
Documentation
Those seeking Personal Loans must present many papers, including income statements, bank statements, and ITR returns.
Interest Rates
Interest rates are at an all-time high. It ranges from 10 and 22% and is determined by the applicant's profile.
Tenure
Personal loans have a longer repayment period. Most lenders provide terms ranging from one to five years.
Amount of the Loan
In the case of Personal Loans, the loan amount can be rather large. It is determined by a person's credit history and income profile.
Disbursement of Funds
The funds are distributed in a lump payment. The money is transferred immediately to the borrower's account by the lender.
Charges
Banks charge various costs such as processing fees, late fees, and so on.
Click here to read about Car Loans.
Top Personal Loans – Overview
HDFC Bank personal loan
Personal Loans from HDFC Bank are available to both salaried employees and independent contractors in India. You can simply check your own eligibility online.
You can utilise NetBanking if you already have an HDFC Bank account to discover if you qualify for a pre-approved loan. This is often regarded as the best Personal Loan in India.
ICICI Bank personal loan
You can apply for a Personal Loan up to Rs. 50 lakhs at tempting interest rates to deal with personal emergencies that might occur at any time in life. Because of ICICI Bank's speedy approval process for Personal Loans, your borrowing experience will be uncomplicated.
Bajaj Finserv personal loan
A Bajaj Finserv Personal Loan allows you to borrow up to Rs. 25 lakhs at a fair interest rate. The loan has no hidden fees and is completely transparent, which simplifies the borrowing process in general.
Fullerton India personal loan
Personal Loans from Fullerton India are completely transparent and straightforward. The unique and tailored offering includes instant online application. Fullerton Online Personal Loans are available immediately, and the transaction is completely paperless. A user-friendly online application is accessible for submission online. When you get a loan approval you can have the money in your account.
Induslnd personal loan
IndusInd Bank offers low-interest personal loans that can be utilised for a variety of purposes. They offer fast loan processing and approval for speedy online Personal Loans. IndusInd Bank offers personal loans up to Rs 25 lakh with rates starting at 11% p.a. for durations up to 5 years.
They also offer instant online Personal Loan processing and loan approval in a matter of minutes.
Kotak personal loan
Kotak Mahindra Bank Personal Loans give you with immediate cash for any essential financial demands. If you want to take a trip, plan a wedding, or cover unexpected medical expenditures, Kotak Mahindra's quick Personal Loan can help.
Standard chartered personal loan
Standard Chartered, one of the country's most well-known banks, offers Personal Loans with competitive interest rates and low processing fees. It has Personal Loans with interest rates starting at 11.49% and a processing fee of up to 2.25% of the loan amount. The maximum loan amount is Rs. 1 lakh, and there are no time limits on repayment—it might take anywhere between 1 and 5 years.
Cent personal loan
The Central Bank of India offers personal loans with interest rates starting at 12.35% per annum. You are eligible for a Personal Loan of up to Rs. 10 lakhs with a maximum payback period of 48 months under this scheme.
The bank charges a processing fee of Rs. 500 + any applicable service taxes for Personal Loans.
Bandhan bank personal loan
Bandhan Bank offers Personal Loans to satisfy a person's every need. The bank also offers several customization choices to match the needs of an applicant. Bandhan Bank offers Personal Loan with rates starting at 14% p.a. for terms of up to 5 years for loan amounts up to Rs 15 lakh.
The bank claims that it will issue a Personal Loan within two business days of obtaining the relevant papers.
SBI quick personal loan
SBI provides Personal Loan with durations of up to 7 years and interest rates beginning at 11% per annum. The loan amount might range from Rs. 25,000 to Rs. 20 lakhs, depending on your eligibility. The processing fee is up to 1.5% of the loan amount.
Also Read our article on "What is EMI & How does No-Cost EMI work?"
The Bottom Line
When it comes to personal loan in India, the bottom line is that there are a variety of options available to borrowers. Some of the top personal loan providers in India include Bajaj Finserv, HDFC Bank, ICICI Bank, and SBI. Each of these banks has their own unique terms and conditions attached to their personal loan products, so it's important for borrowers to compare and contrast each option before making a decision.
Follow us on Instagram.