Neo Banks- Everything thing to know!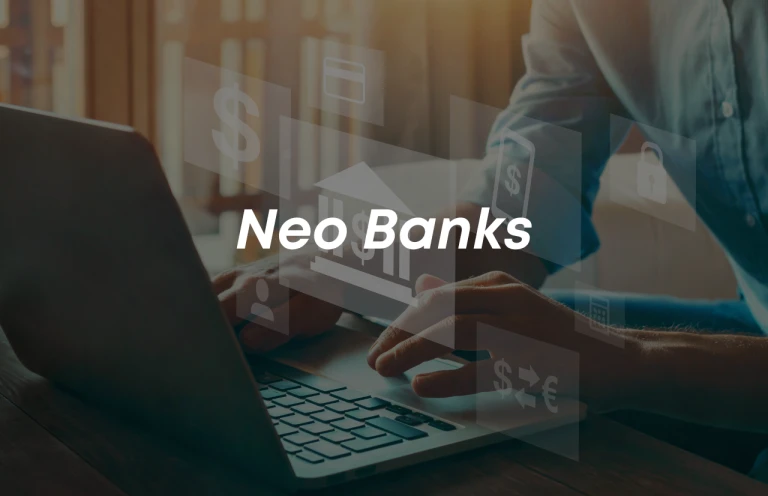 Are you tired of the traditional banking system? Do you want to experience a new and innovative way of managing your finances? Look no further than Neo Banks! These digital banks are taking the financial world by storm, offering unparalleled convenience, accessibility, and flexibility. But what exactly are they, and how do they work? In this blog post, we'll explore everything you need to know about these disruptors in the banking industry – from their features and benefits to their potential drawbacks. Get ready to discover a whole new world of finance!
What are Neo banks?
They are financial institutions that only have an online presence and operate entirely digitally. They provide all traditional banking services through a digital setup or mobile apps, with no physical branches. These are the types of digital banks that cater to the financial needs of the tech-savvy generation, such as instant money transfers, lending, payments, and so on.
However, it is important to note that these banks may not have their own banking license and must rely on their banking partners to provide financial services and products. These are entirely digital banks. Furthermore, because the RBI does not permit 100% digital banking operations, they are unable to apply for a banking license. These banks expertise lies in combining technology and artificial intelligence to provide personalized financial services to customers. It is available at a low cost.
How are Neo banks different from Traditional banks?
Traditional banks, such as HDFC, ICICI, Kotak, and Axis, have a large physical presence with ATMs and bank branches. These traditional banks also provide digital banking or net banking services. This gives them a slight advantage over neobanks that only have an online presence.
The customer base of neo banks is smaller than that of traditional banks. Neo banks have a long way to go before they can compete on the same scale as traditional banks.
Traditional banks have deep pockets and significant funds, which neo banks lack because most of them are still in their infancy in India.
Neo banks have an advantage over traditional banks due to innovative app features. Neo banks, on the other hand, have cutting-edge technology that traditional banks do not. We've heard of a few banks' apps having too many bugs and being unfriendly to customers.
Millennials, Gen Z, and young employees who want new-age fintech services that traditional banks do not currently provide make up a large portion of the customers served by neo banks. However, the older generation, larger corporations, and legacy businesses are more likely to stick with traditional banks due to services such as personal banking, relationship managers, and so on.
How are they different from Digital Banks and Payments bank?
Digital banks are frequently established as online subsidiaries of larger banking and financial institutions. They may have a few physical branches and be backed by larger financial institutions. On the other hand, they only operate online and have no physical locations.
Payments banks are regulated by the RBI and offer all banking services to customers except the issuance of credit cards and the extension of loans. As a result, payments banks are virtually free of credit risk. On the other hand, they provide credit cards as well as loan services, increasing their exposure to credit-related risk.
Also read: What is sukanya samridhi yojna
How does Neo banks function?
A neo bank's business model is very different from that of a traditional or digital bank. These banks save a lot of money on operational and overhead costs because they don't have physical locations, branches, or employees at these branches.
A neo bank's primary function is to provide customers with technologically advanced banking services.
The banking partner provides lending access and even offers to hold the customer's funds.
Simultaneously, the neo bank operates the app, distributes the product, and ensures customer satisfaction, complete customer acquisition, and client servicing.
These unlicensed fintech firms typically work with traditional banks to provide new-age banking services through modern, user-friendly apps.
Neo banks rely heavily on data. They collect and analyse customer data in order to better understand customer behaviour and provide enhanced services.
Neo banks aim to improve the customer journey based on existing customer actions.
These banks provide no-fee customer accounts to first-time earners and lending services to young learners looking to build a credit score.
Benefits of Neo Banks
Following are the benefits:
Low cost: Because there are no physical branches, minimal regulation, and credit risk, the cost of operating a new bank is low, resulting in higher revenues. There are no monthly maintenance fees, unlike traditional banks.
Rapid service: The technology enables customers to navigate the Neo Bank apps smoothly, efficiently, and quickly. On a neo bank, money transfers and lending transactions can be completed in a matter of minutes.
Customers can open an account with a neo bank in a few simple steps, unlike traditional banks.
Also read: How to save money to invest
Things to consider before depositing money in them
Following are the things to consider before depositing money in them:
Neo banks are not banks; rather, they are fintech firms with banking partners.
Neo banks are fintech companies that fall under the jurisdiction of the RBI indirectly. Because the RBI does not recognise neo banks as "banks," customers may face legal consequences if there is a problem.
Neo banks provide limited products such as savings accounts, small loans, debit cards, and so on, but not all bank services.
Customers will be required to conduct all banking transactions on their mobile phones and may not have access to a personal banker.
Drawbacks of Neo banks
Following are the drawbacks:
Customers do not have direct contact with a person because there are no physical bank branches. This also makes the relationship impersonal and devoid of human touch.
Limited services – Because they lack a banking licence, neo banks cannot provide all of the benefits of a traditional bank.
Security – Neo banks are entirely digital. As a result, they are vulnerable to security breaches, cyberattacks, and other online threats.
Follow us on Instagram.